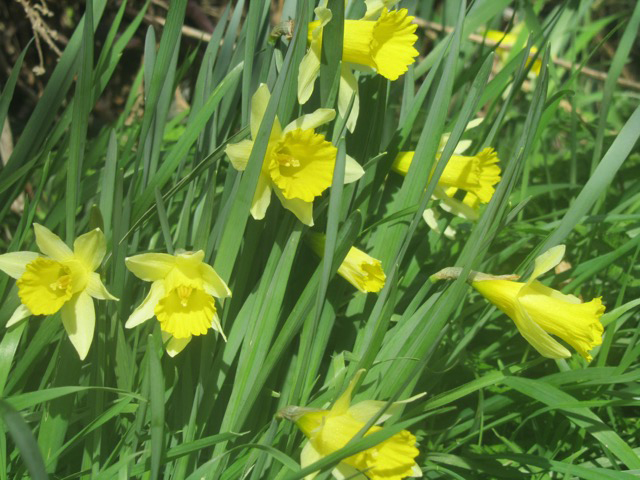 Daffodil weekend
Barely finished typing how I hope we are going to be busy this year and two bookings came in!! So I really must get my act together now as I am going away for a fortnight and leaving my husband in charge. Am feeling a little guilty as he will be coping with Sid (puppy) who is coming on Friday, along with everything else, so I must make sure it is as easy as possible for him.
After the cold of last week we now have some welcome rain. Normally I don't like the stuff, and after the amount of rain we've suffered this winter you'd think we'd had enough, but as we have just planted over 250 hedging plants they could do with a drink. There are signs of green shoots already, and I even saw a bluebell in flower the other day, that's so early, bluebells aren't normally in flower with the snowdrops.
The 'daffodil weekend' is nearly upon us, falling this year on the 19th & 20th March; a local event when the woods and fields in the surrounding area are a picture of wild daffodils. There are guided walks and teas in village halls, and it really feels that Spring is well and truly on its way. We are lucky we have them in our own hedgerows and every day more and more brave the weather – so dainty compared to the garden daffodils, and a beautiful pale yellow.
In the 1920's & 30's crates of these gorgeous little flowers were sent to London and the Midlands on a now ceased line known as 'The Daffodil Line', which ran from Dymock , through Newent to Gloucester, and in the early post-war years were sent to hospitals in London and Birmingham as a gift from the county – imagine that……